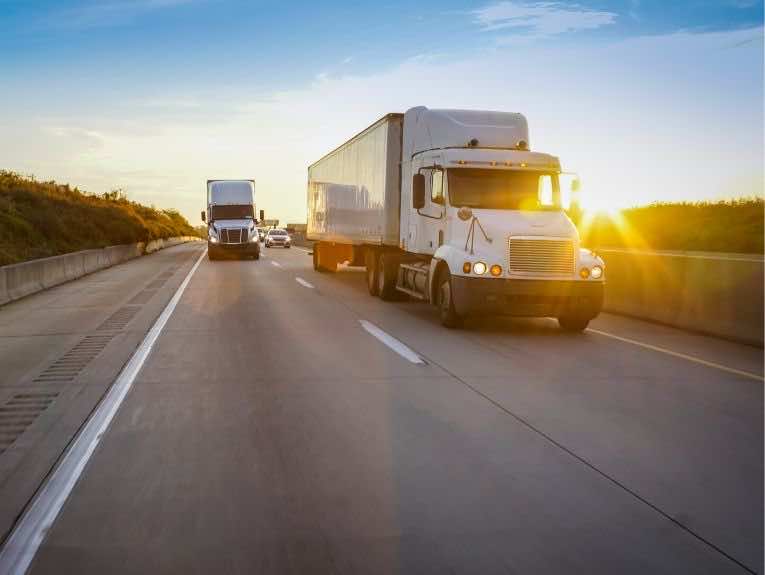 Truck Driving Space Management & Following Distance
Rules of the Road for Trucking
An extremely common, and dangerous, practice in trucking is keeping an improper following distance in traffic. It doesn't matter whether you are new to trucking or a veteran, anyone can benefit from a refresher course on space management.
Safe Space Management
One of the most important keys to trucking safety is maintaining an adequate distance between your truck and the vehicles around you. It will allow you to react early to accidents, construction, and stalled vehicles so you have plenty of time to slow down or change lanes.
What is the Correct Following Distance?
Seven to eight seconds. There is a correlation between the weight of the vehicle and the speed you are traveling at. The heavier your truck, the faster you'll move; which means the longer it takes to safely stop.
Determine Your Distance
To figure out how much space should be between your truck and the vehicle in front of you, watch that vehicle pass a fixed object like a tree, road sign, or light pole. Start counting the seconds until you reach the same object after the vehicle passes it. This will tell you how many seconds of following distance to give. When you are driving in inclement weather double the seconds — about 14 to 16 seconds.
Safe Stopping Distance
Another important piece of space management is making sure you stop 20 feet behind stopped vehicles at traffic lights, stop signs, and railroad crossings. This gives you the ability to maneuver around the vehicle in front of you if it stalls or breaks down.
Headlights
It is important to put your headlights on half an hour before dusk and to keep them on until half an hour after sunrise. This way other vehicles will be better aware of your presence on the road. Just as you would when operating your car, use your turn signal 100 feet before turning and leave it on until you've fully completed the turn.
Contact Apex CDL today to find out how you can get started in truck driving today.