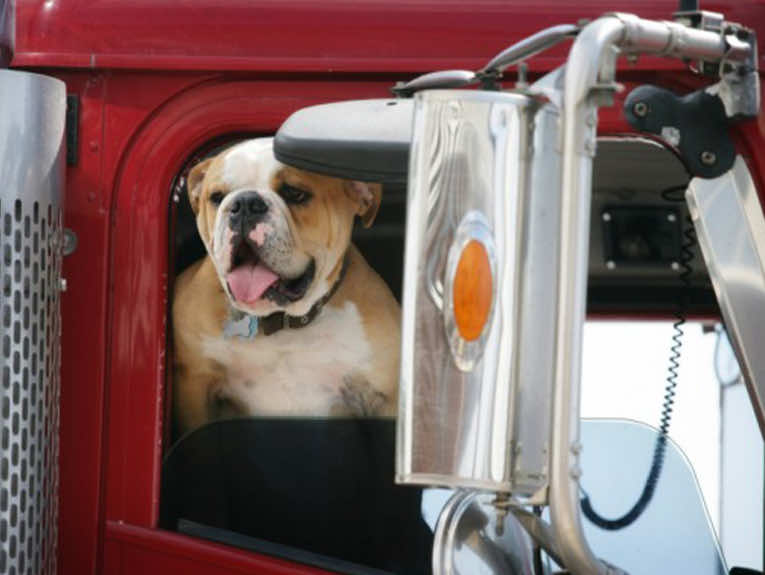 5 Things to Keep in Mind Before Taking Your Dog on the Road
How to travel with your pets safely!
If you love your dog, traveling with your furry friend may seem like a dream come true.  There are a few things you should know before you and your pup hit the open road. 
Trucking with Your Dog
If you love your pet like a family member, it's only natural that you should want to take them with you on your drives. Unlike a family road trip, however, there are certain things to keep in mind if you want to travel with your dog.
Company Rules and Regulations
The Federal Motor Carrier Safety Administration (FMCSA) doesn't address the issue of pets riding with their owners as long as the driver stays alert and safe. However, it's important to check your company handbook to see if they are pet-friendly. Some companies will even allow cats, but that is up to their discretion. Keep in mind that you may also have to pay a pet deposit.
Safety is Key
It's important to maintain the safety of your fellow drivers as well as your pet's safety. Never let your dog run free when you're parked. Train the animal to stay away from your gear shift, steering wheel, and pedals. Properly identify your dog with tags and keep them in the truck to protect them from other drivers and possibly toxic materials like diesel.
Keep Things Clean
It may come as no surprise that dogs can cause a bit of a mess. Invest in a small vacuum, cab filters, seat covers, and Windex to keep your truck clean. If you are considering getting a dog to keep you company on the road, look for a short-haired breed that doesn't shed much. Don't forget to be considerate of your fellow drivers and pick up after your dog when it makes a pit stop.
Stock Up on Supplies
You want to make sure your dog is comfortable and safe in your truck. Before you leave, make sure you're well-stocked on dog food, water jugs, and toys to keep them occupied. A crate can be a warm, safe place for your dog to wait while you load and unload.
Pick the Best Buddy for You
Some of the best cab buddies are dogs with lower energy, small stature, or some gray around the muzzle. Regardless, make sure you're 100% comfortable with your dog as a travel partner before taking to the open road. Frequent stops for walks are great ways to stay healthy and dogs are great for relieving stress on those long drives.
Trucking is a great career, and it's even better if you can share it with your best friend!
Contact Apex CDL today to find out how you can get started in truck driving!