DON'T BELIEVE THE FREE CDL TRAINING HYPE!
WHATEVER YOU DO, DO NOT SIGN AN EMPLOYMENT CONTRACT… YOU HAVE BETTER OPTIONS
Nothing in life is free, and that is certainly true when it comes to CDL training. Many truck driving schools will offer you "free CDL training," "company sponsored," or "paid CDL training". What they do not tell you is that after your free CDL training period is done, you will be committed to work for that company for a set period of time, usually 12-24 months. Worse yet, while under contract you will make less money, get less home time and most times be forced to drive with a teammate you don't even know for weeks on end. The "free CDL training," in turn, turns out to be anything but free.
If a trucking company forces you to work at reduced wages while they garnish your paycheck to pay them back for their training while you are under contract, how is that free CDL training? You don't get a free car when you drove it out of the dealership parking lot — you pay for it every single month, the same goes for your employment contract. In the case of contract CDL training, you are paying for it in more ways than one.
There is a hidden cost to "free CDL training", mainly the difference between how much money you can make while locked into an employment contract and how much you can make when you are not. Most companies that require you to sign a contract start their drivers out at somewhere between 15 and 18 cents per mile. The companies that hire our students pay anywhere from 32 to 45 cents per mile. It's simple math from there.  "Free CDL training" can cost you thousands of dollars more in lost wages in just your first year. That does not even take into consideration the lost hometime compared to what is available when you obtained your own education in trucking. Many of the companies that hire our students have local routes that can have you home every day and still make great money. That would never be available through a "free CDL training" company.
The truth is that nothing is free, even truck driving school. Of course there is some cost associated with attending a truck driving school and obtaining CDL training, no different than any other education.. At Apex CDL Institute, we are committed to providing all of our students with an educational experience that is well worth the cost and gives them a return on their investment that is second to none.
THE FACT IS THAT SO-CALLED FREE CDL TRAINING IS THE ABSOLUTE MOST EXPENSIVE WAY TO GET CDL TRAINING.
We want better for you than you'll get from free CDL training. We invest in our students and their future careers. Apex CDL Institute trains its drivers for success at any company, not just one that has them under contract.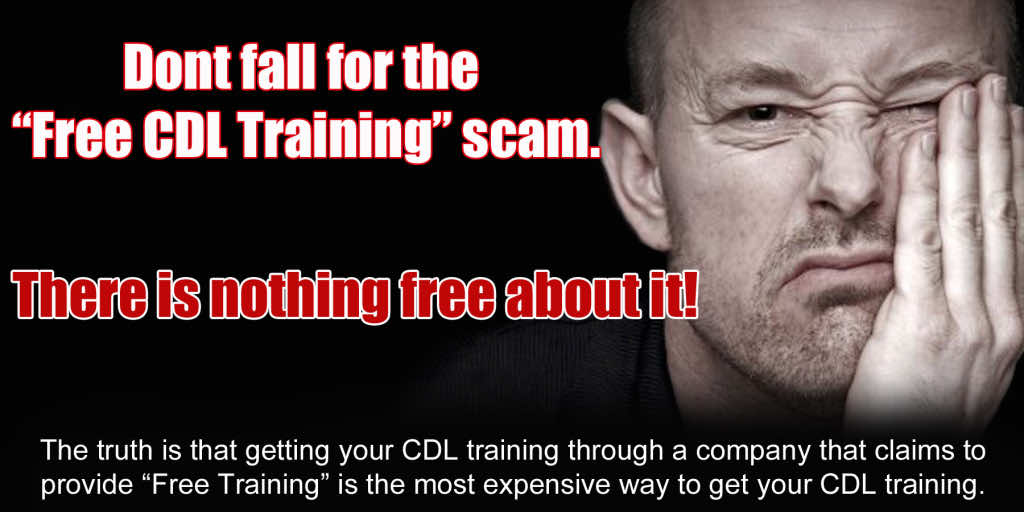 QUESTIONS YOU SHOULD ASK ABOUT PAID VS. FREE CDL TRAINING:
Every week, we talk to a crop of future truck drivers that ask us about "free CDL training" or "paid CDL training." When we talk to them, we explain that there is no such thing as free CDL training and that there will be a cost associated with truck driver training school. Many are shocked to learn how these so-called free CDL training programs work.
We hear all types of questions about the trucking industry. We appreciate the chance to explain how the Apex approach is different from other programs. If you are considering CDL training and truck driving school and anyone promises you "free CDL training", here are some questions you must ask:
Can you get a job without having to sign yourself away to a punitive employment contract?
Are your training costs going to be paid without the expectation that you will pay them back?
How much money will you be making? Will you make as much as .45 cents per mile or more?
How often will you be able to go home? Do they guarantee that you can go home every night, a couple times a week or home every weekend?
After free CDL training, can you get hired without having to sign a team contract and be committed to staying on the road 22 hours a day, seven days a week?
If any so called free CDL training school refuses to answer these questions for you, or you do not like the answers they do provide, you should leave immediately and look for a different option. Do not waste the first few years of your truck driving career locked into a company contract just because you didn't understand the consequences of free CDL training.
Remember, if you are being forced to sign an employment contract, that contract is good for the company, not good for you.
Say No to Indentured Servitude!
At Apex CDL Institute, we do not believe in the indentured servitude of our students after graduation. Our training process costs just $4,000, and we offer a number of financing options to suit all of our students' needs. Because we are helping you finance your education, we here at Apex CDL Institute are truly invested in your education and we want to see you succeed.
If you are looking for a place to get CDL and truck driver training, Apex CDL Institute is the perfect, no-contract option for you!